Are you thinking about selling your business but don't know where to start?
Whether you're looking to buy, sell or accelerate your business, our dedicated team of experienced advisers can help.
Evolution Capital is not a broker: it is a premium advisory firm offering a range of fully-integrated services for TMT firms. We will hold your hand throughout the process, from the initial stages of a deal right through to completion and often beyond.
Everything you need to buy, sell or accelerate your business.
Our business sale process
Entrepreneurs work hard to create valuable businesses and deciding to commit to a sale is one of the most critical decisions they will make. We are passionate about helping business owners achieve the best possible outcome with our bespoke and specialist advice.
Our Business Sale Advice process can be broken down into five key stages:
Stage 1 - Analyse
This stage includes a comprehensive and bespoke review of your business that will ensure you are as prepared as possible for the sale process. Our report will cover:
A detailed and objective review of your business, including a report on financial performance, your customer base and contracts.
A detailed SWOT analysis (Strengths, Weaknesses, Opportunities & Threats).
A thorough analysis of shareholder objectives and options.
A review of the current market landscape.
An assessment of potential buyers.

| Detailed elements of business review | Included |
| --- | --- |
| Financial performance | |
| Customers and contracts | |
| Adjusted EBITDA | |
| SWOT and TOWS analysis | |
| Objective and informed indicative valuations | |
| Buyer landscape | |
| Full exit readiness assessment, including tax advice | |
| Value enhancement strategies | |
| Issue recommendations and trouble-shooting | |
| Complete transaction planning | |
| Information platform and data room build | |
| Premium advice on achieving objectives | |
Stage 2 - Prepare
Once you have agreed to go ahead with selling, Evolution Capital will prepare your business for sale. We will cover all the bases; no stone is left unturned. This stage will include:
Full project plan and timetable, to be agreed with you.
Any issues that have arisen in stage 1 will be discussed and managed.
A series of transaction documents to help promote your business to potential buyers.
A comprehensive platform and data room to ease information sharing.
Information memorandum sample output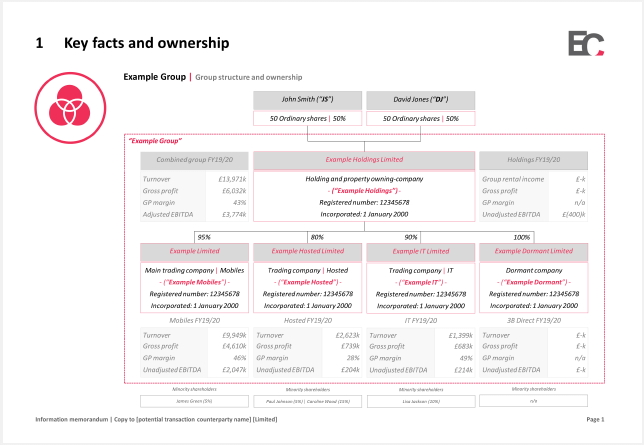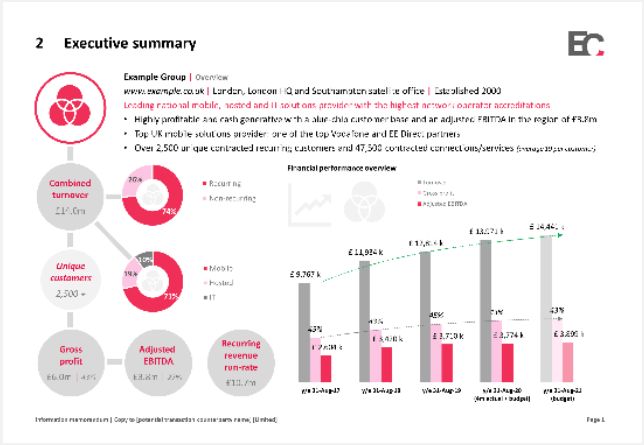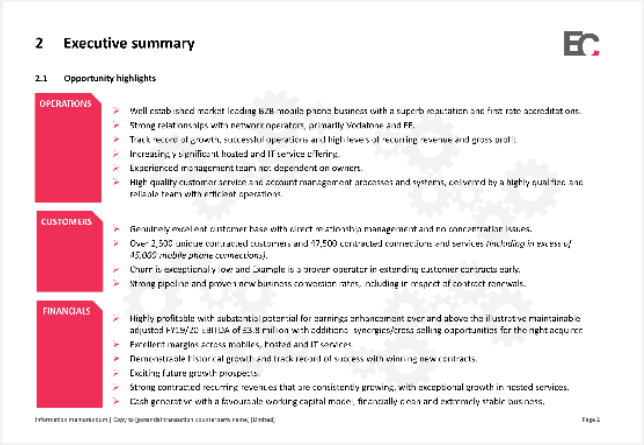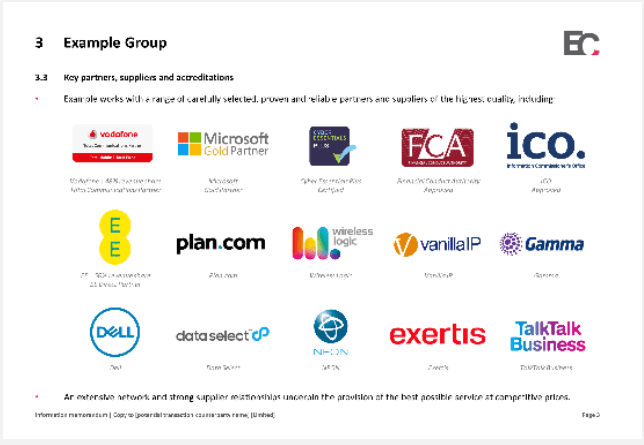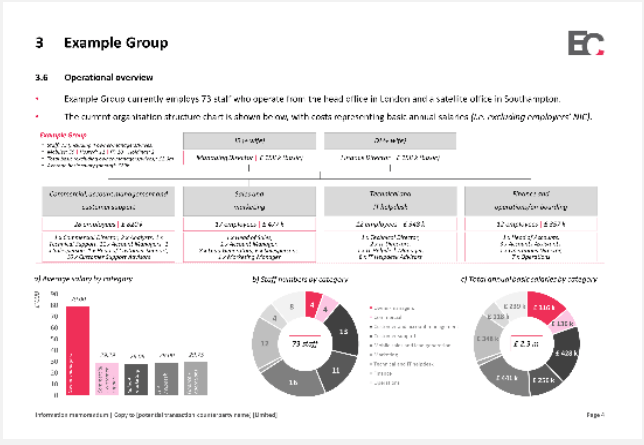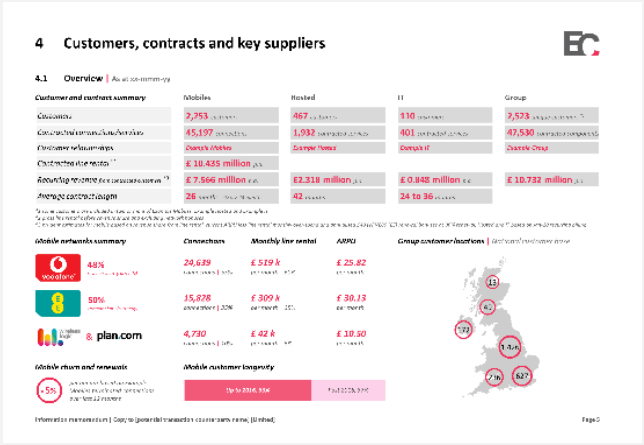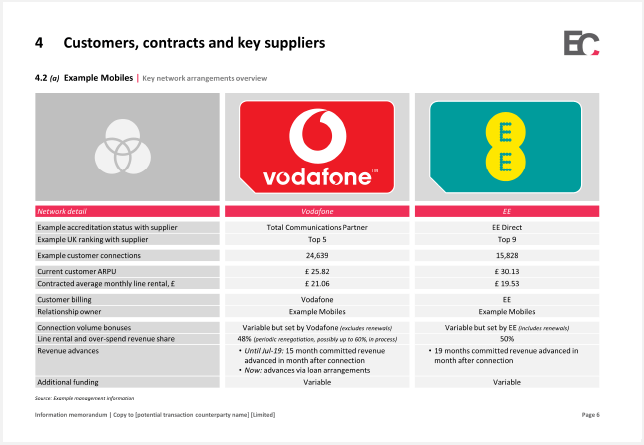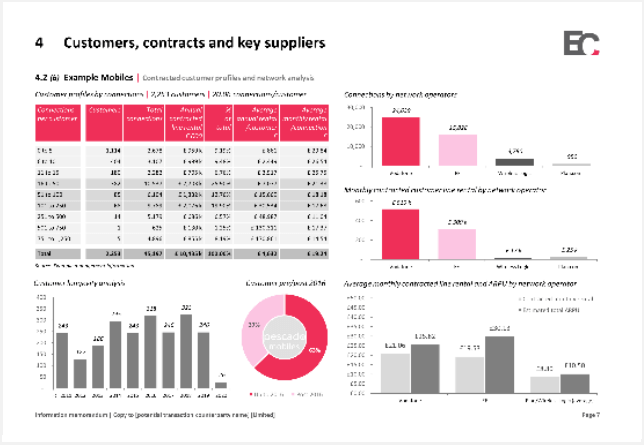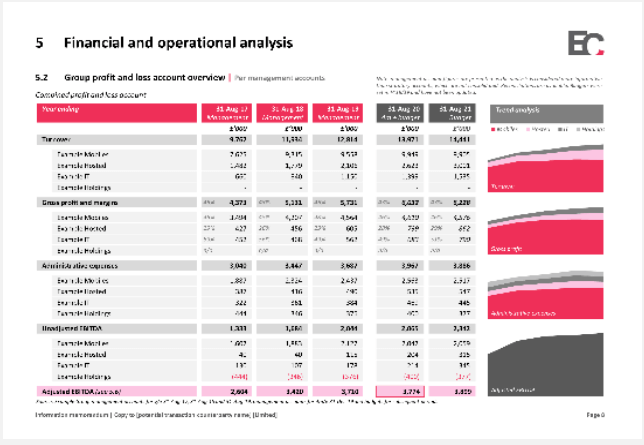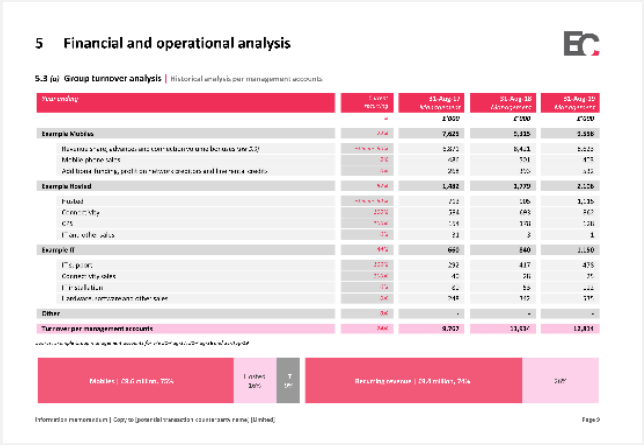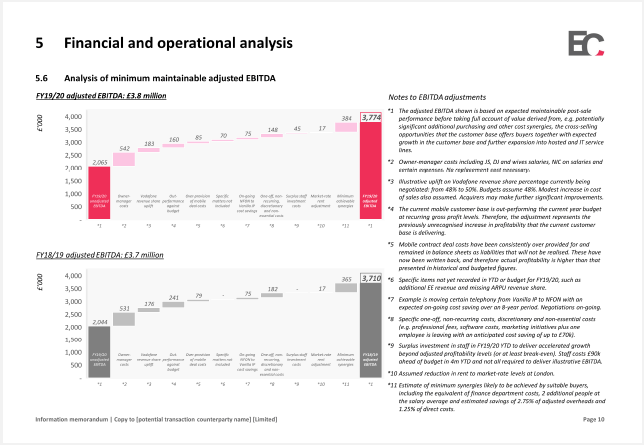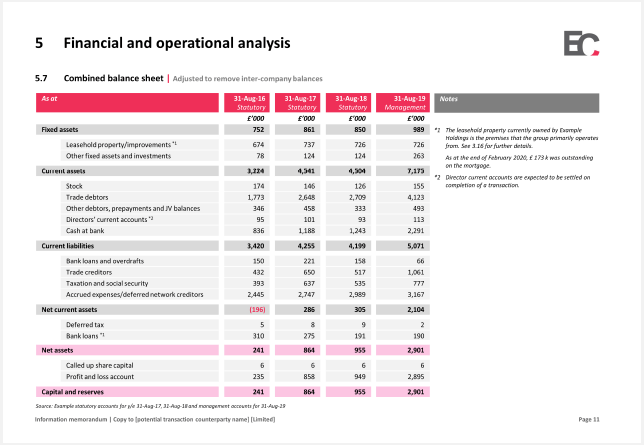 Stage 3 - Verify
Evolution Capital will provide a detailed "EC Deal Assist Report" document for our vendor at heads of terms stage. This is a due diligence dry run and will include review and verification of:
All corporate documents such as articles of association, statutory books, share capital history and organisation charts. Ensure that all required filings at Companies House have been made in a timely manner.
Historic financial statements, communications with external accountants, review of performance against internal budgets and prior years and the company's budget. Review of current year trading and any forecasts.
Company assets to assess financial health of the business as well as potential for liability, including property, fixed assets, stock, debtors and bank accounts. Review mortgages and leases, schedules of creditors, potential liabilities and provisions. Adequacy of current working capital review.
Employees, including their positions, salaries and length of service. Company policy addressing hiring, promotion, pay rises and benefits. Assess potential legal issues that may arise to deal with as the new business owner. Redundancy advice / synergies. TUPE.
Tax records including corporation tax, VAT and PAYE.
Contracts entered into by the company. Including but not limited to contracts with suppliers, banks, distributors, employees and shareholders (related party transactions).
Revenue generating contracts (recurring revenue, length of contract, change of control provisions.
Insurance cover and assess any potential issues.
| EC deal assist report | Included |
| --- | --- |
| Verification of company structure and share ownership | |
| Verification of trading performance | |
| Verification of assets and liabilities | |
| Verification of staffing and contracts | |
| Verification of tax records | |
| Verification of supplier and client contracts | |
| Verification of insurance cover and claims history | |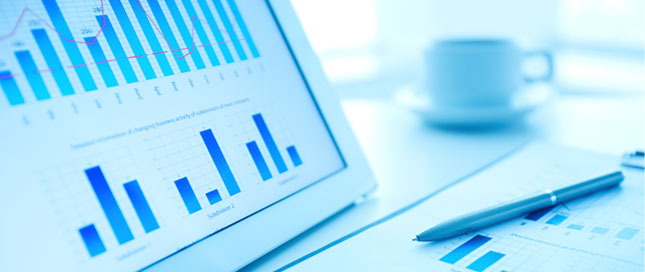 Stage 4 - Market
This stage is all about marketing your business to possible buyers. We have strong relationships with most of the buyers in the marketplace and can help you find the right fit with your business. This stage includes:
Ensuring confidentiality with all potential buyers.
Arranging meetings and managing discussions between all parties.
Managing the release of information to the right people, including documents relating to the deal.
Producing extra information and answering any questions the buyers might have.
Soliciting offers from interested buyers.
Liaising with tax and other specialists to ensure the transaction is structured efficiently.
Regular meetings and catch-up calls with you to ensure everything is on track.
Making sense of the trade and pe buyer universe *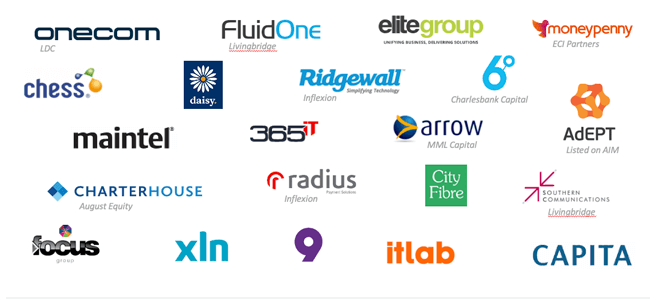 * a small selection of our relationships
Stage 5 - Transact
Just like buying a house, this can be the trickiest stage. We will manage the whole process, right through to completion. Our comprehensive services at this crucial, final stage include:
Full project management and advice regarding the deal.
Agreeing on a timetable and action points with all parties.
Liaising with the solicitors on both sides of the sale to ensure a smooth transaction.
Preparation of all documents relevant to the deal.

Due diligence
Our passion for full preparation helps to ensure the passage through due diligence is smooth and efficient.
Some competitors do not prepare for or participate in this stage.
Spa and legal documentation
We work with your solicitors to obatin the best possible results for you upon completion and beyond.
We are able to introduce you to appropriate solicitors.
Total transaction management
Formal process leading weekly all-party calls.
We are proactive in speedily resolving any issues.
Our focus is always on achieving success and mazimising value.
Our Results & Case Studies
Our Client Testimonials

I am happy to say that Evolution Capital delivered great value to the shareholders in selling Equitalk to XFone Inc. last year.
John Burton
MD of Equitalk

We retained Evolution Capital to find acquisitions and have now completed our first successful transaction through them.
Mark Jenkins
MD of Callagenix

We were the very first sponsor of Evolution Capitals Maximum Exit programme and found it a great way of uncovering acquisition targets.
Simon Cleaver
Former CEO of Legend Communications Plc

We are delighted with the number of valid research opportunities that Evolution Capital has given us
Jamie Hughes
CEO of Pace Telecom

Thanks to help from Evolution Capital, who provided us with the strategic advice we needed, we were able to evaluate a number of options, and are now well placed to develop our business to maximise our profit potential.
David Meyers
Managing Director of Axis Telecom

I put great value on Evolution Capital's team professionalism and advice, and in particular found the networking opportunities of great benefit to Club Communications.
Tony Lewis
MD of Club Communications Ltd

We appointed Evolution to manage the sale of XaL, which I am please to say they accomplished in a professional and timely manner.
Andrew Hague
MD of XaL (Billing Online Ltd)

Evolution Capital completed successful and timely fundraising for my business.
Don McQueen
MD of Patherfinder Telecom Ltd

I have been continually appreciative of Evolution Capital's help and strategic advice which has always been provided in a highly professional manner.
Andrew Crane
MD of Inweb

The help and support that we received from Evolution Capital and Nigel Cook in particular was invaluable in completing an acquisition that had its share of challenges. I would certainly be happy to recommend their services.
Robert Woods
MD of Hobbs Parker 2000

Evolution were able to identify a buyer and complete the sale of my business in the very short timescale that I set them.
Jason Solis
MD of Modus Telecom Ltd